Had a complaint that we shouldn't have used the photos/images in the article.
This is the article and the cover photo (we were sent the images with the article by the PR people)
Mariana "La Barby" Juárez has to beat Irma Garcia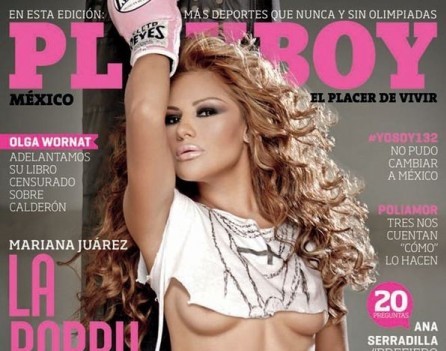 The beautiful former WBC flyweight world champion,
Mariana "La Barby" Juárez
, can not lose the fight on Saturday, December 17th, when she faces WBC International bantamweight champion,
Irma "Torbellino" Garcia
, in a bout that will take place in the international "Oasis Arena Cancún", show that will air live, on Televisa Mexico.
For Mariana Juárez there are no limits, she is the only boxer in the world that more times has defended a championship; The World Boxing Council (WBC) flyweight division, 6 of the interim and 8 of the absolute, in total 14 defenses, an achievement that will hardly be overcome. But the native of Santa Úrsula Coapa in Mexico City, is not content with just that; The beautiful mexiqueña, has played in TV series and movies, for a time commented boxing for TV sports and every year we get hit with her new calendar, and if that were not enough, the beautiful Mariana, was the cover of the prestigious Playboy Mexico's Magazine, of the month of August of 2012.
Read and see more:
Page not found - - Boxing News - Ring News24